Commanding superb views of the spectacular and ancient Flinders Ranges, the Australian Arid Lands Botanic Garden showcases a range of arid zone environments within an area of more than 200 hectares.

Also featured are special conservation areas where the natural flora can be enjoyed, an extensive network of meandering walking tracks and an Eremophila garden with possibly the largest collection of this genus anyhwere.
Relax with a refreshing drink and delicious homemade fare in the award- winning Visitor Centre and witness the ever changing play of light on the beautiful Flinders Ranges. Or browse over the extensive selection of Australian-made items in the gift shop, and be intrigued by what you'll discover in our interpretative display about arid Australia.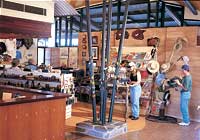 You may also like to view the displays in the WMC Herbarium - Meeting Room, which was opened in 1998 and is available to groups for meetings and conferences.
Opened in 1996, the Garden provides a national focus for arid-zone ecosystem conservation and promotes its economic importance for Australia. It also aims to increase both popular and scientific understanding of the arid-zone environment as most Australians live in densely populated coastal regions and few are familiar with the unique plant and animal life which flourishes in arid Australia.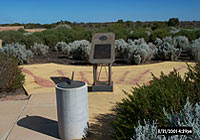 Photo: John Zwar

In the past, this lack of knowledge gave rise to non-sustainable farming practises, extensive vegetation clearance and inappropriate development, resulting in widespread land degradation and the extinction of many plant and animal species.

But degraded land can be restored and productivity become sustainable. And we can learn about and conserve the remaining genetic diversity of arid Australia's native plant and animal species and their ecosystems. This is what is happening at the Australian Arid Lands Botanic Garden.

We hope you enjoy your visit to the Australian Arid Lands Botanic Garden and we look forward to welcoming you again and again, because progress in the Garden will provide new things to see on every visit!

Our friendly staff will provide you with everything you need to make your visit truly memorable, and they can offer advice on other notable attractions in the region.
Entry to the Garden is free.

Garden opening hours:
7.30am till sunset, 7 days per week

Visitor Centre & Café:
9.00am to 5pm Mon - Fri
10am to 4pm on weekends

Closed on Christmas Day

Contact Visitor Services for group bookings.

Take a
GUIDED TOUR
conducted
Monday to Friday
10am every weekday all year except public holidays
(depending on the weather)
For groups special times can be arranged.
Please arrive 15 minutes before the tour begins
Australian Arid Lands Botanic Garden
1.4km along the Stuart Highway, Port Augusta
Large group bookings at other times
by appointment only
AALBG Visitor Centre

Photo J. Zwar

AALBG Courtyard and Courtyard Entry Gate

Photo J. Zwar
A project of The Corporation of the City of Port Augusta
Proudly supported by:
The Friends of The Australian Arid Lands Botanic Garden, Port Augusta Inc.
Photography by John Zwar and Adelaide Impact, A. Bruzzone, P. Dobre