This Society was founded by the efforts of Mr John Zwar, OAM, who instigated the concept of an Arid Lands Botanic Garden for Port Augusta. A Public Meeting, held on May 1st 1984, resulted in the Inaugural General Meeting being held on July 26th 1984. The Society became an Incorporated body on February 27th 1985.
UNIQUE ARID LANDS FLORA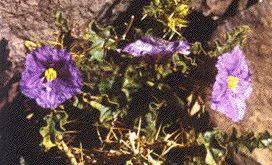 Solanum
Photo H. Weber
The Arid Lands Flora endemic to Australia provides many thousands of species of plant life which are unique.
It is essential that such flora be preserved for future generations. Relatively little scientific research has so far been undertaken on the flora of arid Australia, much of which is of world-wide significance.
This rich and unique heritage must be conserved for the benefit of our country and its future inhabitants.
A fine site of more than 200 hectares is reserved for the Australian Arid Lands Botanic Garden at Port Augusta West. Access is from the Stuart Highway. The site includes a range of soils and remnant local native vegetation. The headwaters of Spencer Gulf form one boundary. There are fine views of the Flinders Ranges, Spencer Gulf and inland to the Tent Hills.
It is proposed that the Garden will grow entirely Australian arid zone plants from as many areas of arid Australia as possible.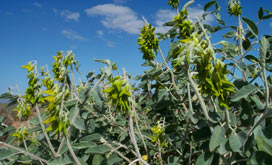 Crotalaria cunninghamii
Photo J. Zwar
OBJECTIVES OF THE SOCIETY are:-
To foster interest in the establishment and development of the Australian Arid Lands Botanic Garden at Port Augusta in South Australia.
To raise funds to augment Government and other funds received to be used for the development of the Australian Arid Lands Botanic Garden.
To promote the conservation, propagation and cultivation of the indigenous flora of arid regions of Australia and other countries of the world.
To enlighten members of the public regarding the significance of the flora within the Australian Arid Lands Botanic Garden at Port Augusta.
Donations of AUS$2 and over are Tax Deductible
BENEFITS TO BE DERIVED FROM THE AUSTRALIAN ARID LANDS BOTANIC GARDEN AT PORT AUGUSTA
Conservation of Australia's unique Arid Lands Flora.
Scientific research and experimental work of international standing. (Including biology, propagation, cultivation, horticultural development biometeorological data, identification of species, culture, medicinal and pharmaceutical, food, nutritional, fodder, fuel, cut and dried flowers and other decorative material).
Benefits to agricultural and pastoral industries (pasture species etc).
Educational at all levels (including tertiary training).
Advisory Service for anyone requiring same, including people in the remote outback, e.g. small townships, railway settlements, farming, mining and other company settlements, etc.
Employment (many and varied occupations, both directly and Indirectly associated).
Tourism. (Ideal location for unique facility which will benefit the Port Augusta economy.
Large-scale seed exchange throughout the world. (Land regeneration, soil stabilisation, fodder, fuel).
Income earning organisation.
Passive recreation for visitors.
Diversification of facilities to country region.
Permanent facility with on-going development and benefits.
MANAGEMENT AND ACTIVITIES OF THE SOCIETY
The affairs of the Society are managed by the officially elected Committee which meets as required, approximately 3-monthly.
Regular News Releases are Issued to Members, the Media, Sponsors, and other appropriate parties including Politicians.
Social functions with eminent Guest Speakers are Organised from time to time, along with occasional guided tours of the site.
Contact The Friends of the AALBG:
Telephone: 0434717382 ah
© 2012 Friends of the Australian Arid Lands Botanic Garden