Birds of Arid Australia
Introduction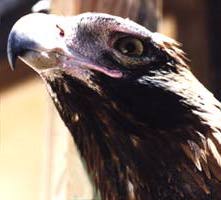 Wedge-tailed Eagle
Photo: Lorraine Edmunds
The Australian arid zone supports a diverse Eyrean bird population with some 220 species currently distributed throughout all parts of the landscape. An important characteristic of the Eyrean bioclimatic region is its size. It encompasses some 70% of the Australian continent. Most of the birds recorded as living in this zone have enormous geographical ranges with many spanning from the Great Dividing Range to the Indian Ocean.
Arid zone birds exhibit varying degrees of mobility. Some are vagrants, seen occassionally but not breeding. Other species are frequent visitors either on a seasonal (migratory) or nomadic basis. Finally some maintain breeding populations which are subject to fluctuations in numbers as a result of changing seasonal conditions such as exceptional rainfall or drought.
The influence of human activity on some arid bird species have greatly reduced their numbers in many areas. The total clearing of their habitats and predation by introduced feral animals, such as the cat and fox, are serious threats to the survival of many species.
Everyone should be involved in conserving indigenous bird populations by taking steps to protect bird habitats and populations from unnecessary disturbance and predation. You can assist by supporting feral animal control research.
About 100 bird species have been identified at the grounds of the Australian Arid Lands Botanic Garden. For details, see "Bird List" in the menu.
Download: Birds of the Sandhills and Bluebush Plains (PDF, 1.2 MB)
---
© 2012 Friends of the Australian Arid Lands Botanic Garden